How to Choose Right Leotard for Your Gymnast
1. Right Fitting Gymnastics Leotard
If you ask a group of gymnastics moms or coaches on how a leo should fit, chances are you will get a variety of answers. One of the most important aspects of how a leo fits is up to the gymnast.

If a leo is too tight or uncomfortable, a gymnast will likely be distracted. On the other hand, if a leo is too big, it could be dangerous because it could catch on equipment.

A leotard that is too big will also likely bunch around the hips or waist, which will cause it to look horrible and be uncomfortable.

When choosing the perfect fit for a leo, you also have to consider whether you are buying it for training sessions or competition. Getting the right fit is important because there are different requirements for each leo type.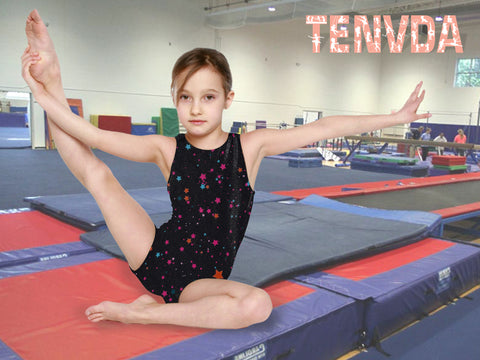 2.Durable Material Leotard 
Many gymnasts and shoppers are drawn to metallic fabric leotards because they are flashy and bright. However, this type of material also doesn't have a lot of give to it, which means some gymnasts will feel uncomfortable in it.

For instance, gymnasts with wide shoulders may not appreciate the tightness around their shoulders and torso from a metallic leo and increasing the size won't fix that issue for them.

Lycra Fabric Pros and Cons
Another popular leotard material is Lycra. Lycra is extremely stretchy and gives a lot without interfering with modesty. This leo material is especially popular with gymnasts that have sensory issues or don't like scratchy, tight materials.

The downside to Lycra leos is they usually aren't chosen as competition leos because they are unable to hold up with rhinestones, appliques, foils, and other decorations.

Nylon/Spandex Fabric Pros and Cons
Nylon/spandex material is also a popular leotard material choice. In fact, this material is a happy medium between scratchy, tight metallic leos and lycra materials. While nylon/spandex leos usually don't have a lot of decorations on them, they are offered in a variety of colors and designs.

Velvet or Velour Fabric Pros and Cons
While not as popular as it was in the late 80s and 90s, velvet or velour fabric is still a popular choice for leotards. One of the reasons this leo material is so popular is because it is extremely forgiving.

Velour and velvet also hold up well. The only problem with velour and velvet leos is they can make girls hot and sweaty, even with minimal effort.